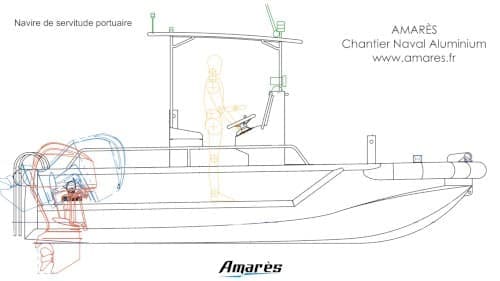 Description
The Amatug 550 is a true small, compact, multi-service tugboat with a protected engine.
Motor placement is optimized:
- Due to the recess at the stern, the engine is naturally protected and will never be vulnerable: the boat can therefore also be pushed backwards or lean on a stern corner;
- As it is centred towards the centre of the boat, the use of a heavy weight 100 hp thruster motor will not significantly alter the boat's trim.
Its "scow" type hull is perfectly justified for the use of the boat as it increases both lateral and longitudinal stability: as there is more volume ahead, during chain-up manoeuvres, for example, the boat pitches less at the nose and the propeller does not come out of the water.

It is entirely protected by white fenders so as not to mark yachts, NIBS type at the bow and stern and delta type on the sides.